As you might have noticed, I bake a lot. And I mean a lot. Between my business baking dog treats and all my little personal projects, I bake something nearly every day.
So when my stupid cheapo rolling pin started to leak water on my dough (probably from being immersed, which granted you're not supposed to do), I knew it was time to find a new one. I toyed with a marble one, but my pumpkin dog treats are really orange and stain even things that don't stain very easily so I figured a marble rolling pin was probably the wrong solution for me.
Then I saw this post by Daily Prep author Muffy Aldrich. It's a holiday gift guide and in the comments, a reader referred to Vermont Rolling Pins, a company making solid wood hand-turned rolling pins designed to last forever. Wood? Lasts forever? Now that's what I'm talking about!
They have eight different models in three species of wood: maple, cherry and walnut. I wasn't sure which of the models and which of the woods would be best for me, a daily baker, so I sent them an email a couple of weekends ago.
And at 7 am on the following Monday, I had a very nice recommendation from one of the owners. She suggested either the Shaker or the Monster in maple. I liked the look of the Shaker better than the Monster, so the decision was simple, but I had a busy couple of days and didn't get it ordered right away. So I was pleasantly surprised when Cyndi called and left me a message asking if I had any other questions or wanted to discuss my purchase. It was a very nice, very personal gesture.
Finally though, I did place my order on December 4th and my rolling pin arrived today!
Isn't it pretty?
Just look at that grain!
And it's crazy heavy. If anyone ever breaks into our house, I'm grabbing this thing!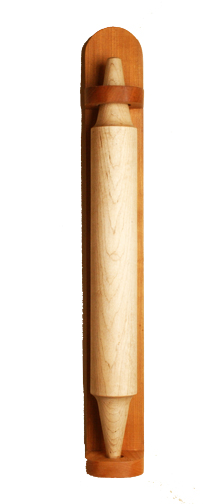 They have this vertical stand for it that I may get as well. This gorgeous thing is definitely worth displaying and I've got a great spot for it on the wall in the kitchen.
They recommend using bees wax or mineral oil once a month to keep it in good condition, but I'll probably end up using my Kerf's Wood Lotion. It's food safe and contains bees wax, but I think it's easier to work with.
I can highly recommend Vermont Rolling Pins. Of, and if you order by December 15th, you can even get one in time to give as a gift for the baker in your life. Trust me, any serious baker would really appreciate one of these. I can't wait to use mine!
I have not been compensated in any way for this review of Vermont Rolling Pins.
This is a post from Pies and Puggles. Republishing this article in full or in part is a violation of copyright law. And it isn't nice. © 2010-2013, all rights reserved.