Whenever I talk to silver dealers, they lament that young people aren't interested in silver. And while it's true that silver as a universal status symbol, wedding gift and family heirloom was once a lot more common than it is now, I think there are those among us who can still appreciate a traditional craft like silversmithing. Am I right?
However, one of the things that I think has earned silver a reputation for being high maintenance is that even if it just sits out on a mantle, you have to do more than dust it because it tarnishes over time. This is doubly true for thrift store pieces that may have sat untouched for years before being donated.
This bowl for example.
This is a basic Revere silverplated bowl, perfect for filling with wooden Easter eggs in spring, moss balls in summer, pinecones in autumn and ornaments in winter for tablescapes, mantlescapes and any other place you want to display a collection of small objects. If your decor has any sort of traditional bent, there's no reason not to have at least half a dozen of these in various sizes around your home. I pick them up for my Etsy store whenever I see them and they sell out really fast.
That said, this bowl might not have been polished since Oneida made it around the Bicentennial. Enter Hagerty's Silversmiths Spray Polish, which was recommended to me by the fine folks at Twins Ace Hardware in Fairfax, Virginia.
It's really simple to use. First, gently wash and dry the bowl to get any dust off that might scratch. Then you shake the can, spray on the surface you want to clean, let dry until it's pink (it takes about 30 seconds to a minute), then wipe off with a soft cloth. I couldn't get a good photo of the pink color, but trust me, in person, it's obvious.*
Here's what all that tarnish coming off looks like.
And here's what the bowl looks like now.
The only downsides are that it is 1) a little expensive at $16.99 for 14.5 ounces, but I've cleaned at least one piece a week for the past year and I still have plenty left and 2) a little stinky so open a window when you spray.
And that's why Hagerty's works for me.
So go get some silver! Silver plate can be had in thrift stores for very little, on Etsy for a little more and for truly fine examples of sterling silver, hit an antique store. It's great investment in classic decor.
*This is my last post ever with my little point-and-shoot camera. Tomorrow I'll show you my new camera and show you exactly why I decided to upgrade with side-by-side photos that show just how amazing a DSLR really is and how I acquired mine.
Linking up to: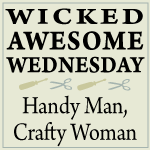 I was not paid, perked or otherwise compensated by Hagerty or
Twins Ace Hardware
for sharing this post. I just love this stuff.
This is a post from Pies and Puggles. Republishing this article in full or in part is a violation of copyright law. And it isn't nice. © 2010-2013, all rights reserved.