Okay, so that's maybe just a little dramatic. However, if you've ever been a vintage Etsy seller or an antiques dealer, you know that sometimes something unexpected strikes your fancy. And sometimes you buy stuff for the store, take it home, hang it on the wall to take a photo for a listing, like it there, and then can't part with it.
Guess which of these scenarios happened to me this week?
Did you guess all of the above? Ding ding ding! We have a winner!
Of course, this has happened before, most notably with this clock I bought back in December. You just never know what you're going to find. Or what you'll bring home, start to write a listing for and then stop because you just know that you can't let go of it.
This is my point today.
This very lame photograph of a very pretty picture started an avalanche last night. It even kept us from catching up with the latest episode of Castle (I know, right?).
I didn't like this photo for the listing of this very pretty picture so I decided to put one small nail hole in the wall and hang it up to get a better shot.
I should know better by now. I should never, ever, ever put anything I don't intend to keep up on the wall. Because this:
Has now turned into this:
Chester can't believe it either.
I guess the logic was that I had found a lot of great art lately. And if I was going to hang one piece to photograph it for a listing, I might as well hang all of them. It would get them off the floor in the office and it would be good to photograph them all together. Especially because there are a couple, like this green lady, that really only work as part of a gallery wall.
Doug is calling her the vampire woman. I think he wouldn't be sad if she went away.
Drop me a line if you want her.
Linking Up To: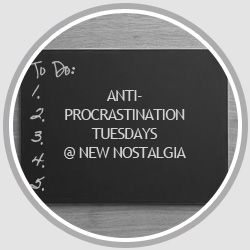 This is a post from Pies and Puggles. Republishing this article in full or in part is a violation of copyright law. And it isn't nice. © 2010-2013, all rights reserved.